Responsibly Manufactured
At gogglesoc, we take sustainability seriously. We believe it's not where products are made that counts, it's how. That's why we chose to work with an eco-conscious supplier. They reduce waste at every stage of the production process.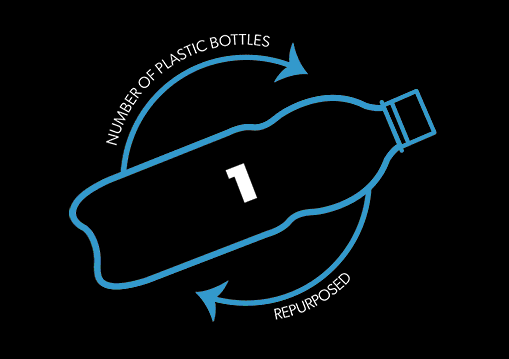 It's Good To Be Green
Now more than ever, it is important for businesses to be conscious of their ecological footprint. At gogglesoc, one of our core values is 'it's good to be green.' From the start, it has always been our mission to divert as much waste as possible from the landfill and turn it into eyewear accessories. That is why we make gogglesoc out of rPET fabric, a reusable and sustainable material made from recycled plastic bottles.
Protect Our Winters (POW)
At gogglesoc, we strongly believe that it's good to be green. That's why we've been working with Protect Our Winters (POW) since 2017. POW is a global non-profit focused on uniting the outdoor community in the crucial fight against climate change. Founded by snowboarder Jeremy Jones, POW believes that those who enjoy the outdoors the most would make the perfect allies in the fight to protect it.
BOTTLE SHREDDED INTO FLAKES

FLAKES MELTED INTO PELLETS

PELLETS EXTRUDED INTO YARD

YARN KNITTED, CUT & SEWN INTO 3 GOGGLESOCS
1% for the planet
We are a proud member of 1% for the planet, a global organization that redistributes profits from responsible businesses to environmental nonprofits to create a healthier planet.

Currently, only 3% of total philanthropic giving goes to environmental causes. 1% for the planet is on a mission to change that, driving critical support towards the most pressing environmental issues.

Read on to learn more about the things we do at gogglesoc to protect our home planet.
High fives
We're absolutely thrilled to be partnered with The High Fives Foundation! The High Fives Foundation is not just an adaptive sports foundation; it's a beacon of hope and support for athletes from all walks of life. Their mission? To provide resources and inspiration, helping individuals with life-changing injuries get back outdoors and pursue the sports they love most.Every day, their incredible work is transforming lives. Through empowerment grants and a nurturing community, they're guiding individuals through daunting challenges, helping them rediscover their strength, and reclaim their passions.
Frequently Asked Questions
How Can I Track My Order?

Every order from gogglesoc.com is sent with a tracking number. You will have received this by email after checkout. Please allow 24 hours for the tracking information to update.

Once the order arrives, you will get another notification to say it's there.

If your tracking shows your order has arrived, but you haven't received it yet then please send an email to shop@gogglesoc.com, and we can file a claim with the carrier. We suggest waiting 24 hours between claimed delivery time and filing a claim. Delivery notifications are controlled by the carrier.
Can I Return Or Exchange Items?

For exchanges, please send us an email at shop@gogglesoc.com with your request and we'll get the ball rolling. Note that when it's time to send your item back, you'll be the one handling the shipping. 

Items purchased from local retailers are subject to their returns and exchanges policies.
I Am Having Trouble Placing My Order Online?

Sorry to hear you're having trouble placing your order! Have you tried turning it off and on again? (just kidding)

If you're struggling to place a gogglesoc order or something isn't quite right with our website, please reach out to our customer service team using this link.
Can I Create My Own gogglesoc?

Yes! We have two programs to choose from for custom gogglesocs. Get your logo stamped on a soc with our Rookie Program (MOQ of 100 units) or go fully custom with our Pro Program (MOQ of 200 units). Contact custom@gogglesoc.com to get started!

The sky's the limit with our custom program! Dreaming of getting 200 gogglesocs adorned with your dog's face? Simply send us a picture of your pooch and we'll roll up our sleeves and get to work.
Get In Contact If You Want To Partner With Us